WHY SHOULD YOU JOIN THE DAO?
Join the movement to revolutionize IT Asset Disposition (ITAD) and propel this industry into the future. OBADA is writing an ISO Standard (ISO/AWI 20435) that details the method for digitally tracking physical assets using non-fungible tokens.

As a DAO Member you will become an operator of the world's first utility that enables enterprise and supply chain systems to digitally represent physical assets and create a decentralized "Carfax™" system. This innovative approach allows companies to capture permanent, interoperable records of any asset, from manufacturer to recycler, and establishes a global standard for ordering and tracking end-of-life services, such as data destruction and recycling.
DAO Members Get



Economic Rights
Share in the fees generated by the platform.
Receive a portion of the rewards generated by the platform.
Receive an allocation of system credits.
Operational Rights
Node Operations: The right to run the DLT and storage systems.
Gateway: Offer your customers access to the blockchain as a service.
Rights to offer Trust Anchor and other services.
Governance Rights
Vote to guide the direction and changes in the blockchain ecosystem.
Make decisions about fees, and rewards for network participants.
Watch Our Overview Video
(Watch it below, or watch on youtube)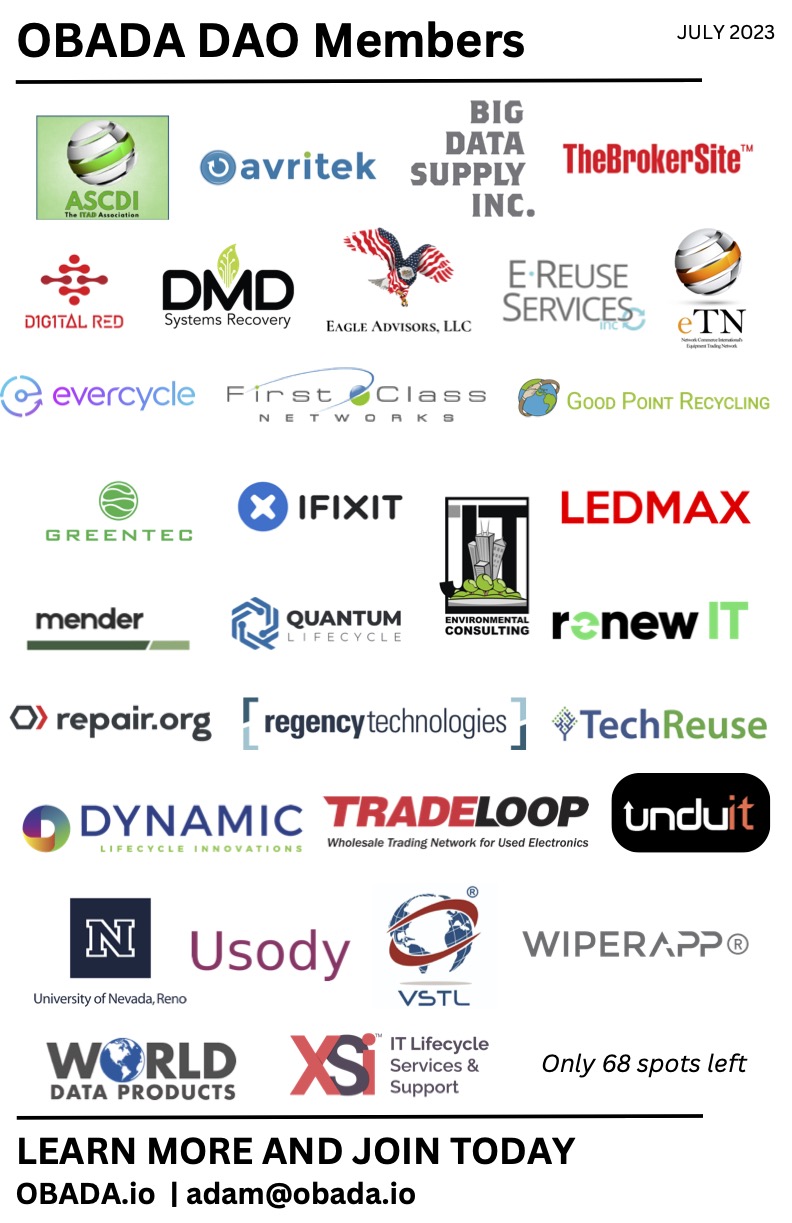 Frequently Asked Questions
What is OBADA's goal?

To build a blockchain solution to track physical assets through their lifetimes using pNFTs on a blockchain, to facilitate device and component reuse, and end-of-life proper recovery or disposal.
Why is this needed?

OBADA's system is designed to address the main problems plaguing the ITAD market, and issues around proper reuse, recycling or disposal of IT equipment. Problems include: + Siloed and poor information on electronic devices + Poor electronics recycling rates + Fraud / scams in the market + Chain of custody issues + Environmental damage / problems from used electronics
What is a DAO?

DAO stands for "Decentralized Autonomous Organization." Unlike a traditional trade organization, or an LLC, there is no central decision maker or single owner or entity in control. DAO members are like the "owners" of this non-company. They run the software, vote on all platform changes, and set all platform fees and rewards.
What is ITAD?

IT asset disposition (ITAD) is an industry term and practice built around reusing, recycling, repurposing, repairing or disposing of unwanted IT equipment in a safe and environmentally friendly way.
What is the cost to join?

DAO membership seats are currently priced at a one-time fee of $6,500, plus a $15 bank charge. Note: After every 10 seats filled, the DAO may adjust the seat price, and included system credit allocation that goes with each seat.
What are DAO Members expected to do?

As a DAO member you would be responsible for voting on any future changes to the network. Also, you would be expected to either run a blockchain node, work with the DAO to ensure one is operating on your behalf, or to transfer your node rights to someone who will run a node for the system. Apart from that, being an active participant in helping to advocate for, or drive adoption efforts would be greatly appreciated.
Where can I learn more?
---